A Midwife's Song: Oh Freedom

  A New Hope River novel by Patricia Harman

Celebrating diversity, inclusion and strong women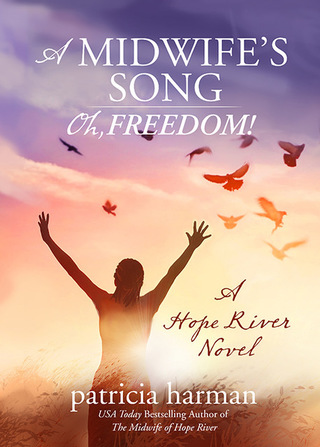 The author of the bestselling novels about the Hope River returns with another moving story about the courage of ordinary people, the power of community and the miracle of life.
 
    
It's 1956, the beginning of the Civil Rights movement in the U.S. and the middle of the Cold War. Revolutions are happening all over the world. On the home front, midwives Patience and Bitsy face personal challenges. Their young adult children are changing. Bitsy's adopted son returns from Korea wounded in body and spirit. Patience's daughter is pregnant "out of wedlock," and Danny, her son, has a problem with booze. Childbirth in the U.S. is changing too. The midwives who were once called for home deliveries have been overshadowed by the new hospital with its "painless childbirth", until a few rebel nurses appear and Bitsy and Patience step forward to help them. In the midst of these challenges, journals written in the 1850s by Grace Potts, the elder midwife of the Hope River, begin appearing on Patience's porch at night. The diaries detail Grace's escapes from slavery when she was fifteen. Who is bringing them? And why? What do the midwives do now? Read the journals, of course. Struggle to understand and help their children, of course. Join the civil rights protests on Main Street, of course… and sing!
Excerpt from the Book Chapter 1
January, 1956
Authorized Only
A woman's scream."No! No! I can't. I won't!"
"Lordy!" Bitsy says as we push through the glass doors of the newly built hospital in Liberty, West Virginia and are greeted by One Arm Wetsell, a ruddy-faced carpenter, with short thinning gray hair. His name is actually Holly Wetsell, but twenty-years-ago he lost his lower arm under the roller of a sawmill and it had to be amputated.
"Upstairs!" he says pointing. Then he follows with, "The elevator isn't working yet."
The cries of protest continue. "No! No!"
"What have we gotten ourselves into?" I mutter.
Only thirty minutes ago, I'd received a call from the desperate nurse. "Are you a midwife? Can you help us? The hospital's not open yet and we don't have a doctor."
Bitsy, my partner, takes the steps two at a time, but I limp a long. I don't need a cane anymore, but still when going up steps, I have to stifle a moan. On the second level, boxes of supplies and hospital beds without mattresses are everywhere.

Delivery Room: Authorized Personnel Only!says the sign on the green tiled wall. For a moment we hesitate. We aren't used to hospitals, but the door is ajar and another scream follows, so we push on through.
What we see is something out of horror movie. An almost naked young woman with long red hair hanging over her face is kneeling on all fours. When the next pain hits, she leans back and howls like a trapped wolf. Two nurses dressed in white with white cloth caps and white surgical masks over their lower faces are pulling on the patient, trying to get her up on a narrow steel table.
There are gleaming metal stirrups attached to the table and a searchlight overhead. A tray of instruments has been knocked over and a bottle of strong smelling antiseptic is pooled on the floor.
"Are you the midwives?" one of the nurses shouts over the wail of the labor patient. "Thank God, you're here. She's been out of control since her family dropped her off. As you can see, we aren't set up for deliveries, yet. I'm Head Nurse Frost by the way, and like I said on the phone, I've never delivered a baby. We're trying to get her in a hospital gown and up on the table, but she's behaving like an animal. Gretchen already has scratches on her arm."
"Get your gol darn hands off me!" Quick as a wink, Bitsy kneels on the floor in the middle of the mess and whispers something in the girl's ear. If the patient even notices Bitsy's brown color, it doesn't seem to bother her and she stops screaming. Then the nurses begin to pull on her again. "Stop," I order, holding up my hand. "Can someone clean up this mess? Do you have a broom and a mop?"
"I hardly think that's a priority," says Nurse Frost. "The baby's about to come out."
"If that's true, we'll need some clean linens, but I insist that you not pull on her any longer. She's scared and doesn't know what's happening." I glance around the room, looking for something soft to place on the floor, but all I see are gleaming metal instruments, knives and scissors of all kinds and a pair of long forceps that I recognize from the OB text my husband, Dan, got me for Christmas. Also on the table are two huge stainless steel bowls full of cotton. Now why would anyone need that many cotton balls?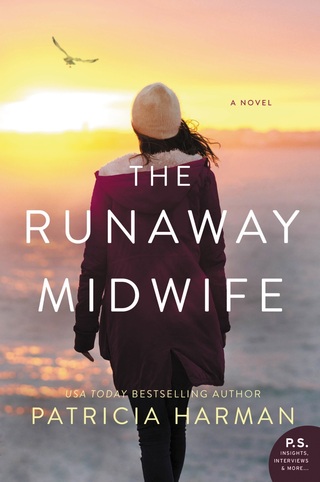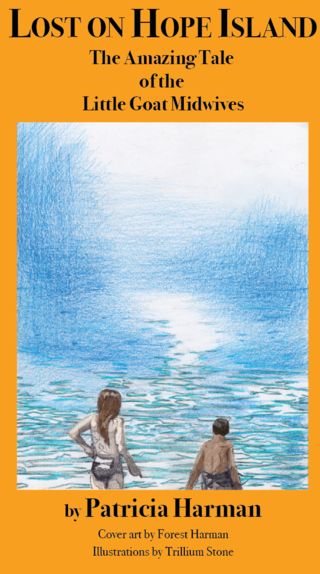 Warning
Lost on Hope Island
The Amazing Tale of the Little Goat Midwives
contains no
goblins, dragons, magic, or villains.
It's about two kids
shipwrecked on a desert island
and it asks one question.
If you were there, could you survive?
Are you smart enough?
Are you brave enough?
Are you kind enough?

This is a book for the kid in all of us.

Comments from Reviewers


Snuggling up with the kids to read Lost on Hope Island is just about the best way you could possibly spend your time. But reader, be forewarned: the sweet suspense between chapters will leave you with only two choices: to keep everyone up way past bedtime, or to endure the almost-certain howling protests at any mention of pausing the story.
Christy Tyner, author of Mama Midwife: A Birth Adventure

"I love all of Patricia Harman's books, and I read Lost on Hope Island: The Amazing Tale of the Little Goat Midwives with great enthusiasm. I recommend it to everyone who loved Living on the Earth. The people in the story embody the environmental and emotional consciousness I see growing with each new generation."
Alicia Bay Laurel, artist, musician and author of Living on the Earth and Being of the Sun.

"Lost on Hope Island: The Amazing Tale of the Little Goat Midwives is brilliant story pairing 'lost' and 'hope' with a full range of trouble, sorrow, love, and resourcefulness for two castaway children. A very ordinary sister and brother survive disaster and thrive with extraordinary creativity, relying on pioneer methods and the deep values of yesteryear. Patricia Harman writes this moving and convincing portrayal from her life experience."
Philip Solem, author of Such a Road and Owlstones.

---
Patricia Harman, CNM, has published in The Journal of Midwifery & Women's Health and The Journal of Sigma Theta Tau for Nursing Scholarship as well as alternative publications. Her first novel, The Midwife of Hope River was awarded book of the year by the American College of Nurse Midwives in 2014. Harman got her start as a lay-midwife on the rural communes where she lived in the '60s and '70s, going on to become a nurse-midwife on the faculty of Ohio State University, Case Western Reserve University, and West Virginia University. She lives and works near Morgantown, West Virginia, and has three grown sons. Read more about Patricia Harman.
Read more about Patricia Harman.